Coming Soon! Susan's thrilling new novel
of love, complicity and redemption,
THE GARDEN LADY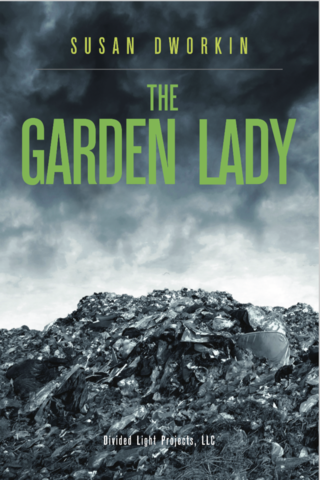 Divided Light Projects, LLC, is pleased to announce the publication of a new novel, THE GARDEN LADY, by New York Times best-selling author Susan Dworkin.

THE GARDEN LADY is a story of complicity. Its huge rewards. Its encroaching terrors. A story very much for our time.

The heroine of the novel is Maxie Dash, a famous beauty, a fashion icon, the face of many national ads. Her first husband, a world-class photographer, took pictures of her in the nude which are so beautiful that they now hang in museums. On the cusp of her 50s, Maxie decides to make one more marriage, something permanent and restful, to a rich man who will guarantee her an affluent life and future security. Amazingly she finds the perfect man. Even more amazingly, she grows to love him.

Albert shares Maxie's passion for the opera. He willingly supports her favorite charities. He indulges her delight in public gardens and allows her to endow the community with their beauty. All he asks in return is that she give him her love and her unswerving loyalty and agree to know nothing -- absolutely nothing -- about his business.
Enjoy an audio excerpt from my new eco-thriller, THE COMMONS

Fresh from the success of her New York Times Best Seller, THE NAZI OFFICER'S WIFE, Susan Dworkin has penned a thrilling new novel — THE COMMONS — about a future society facing a catastrophic threat to the food supply.

It is the year 2165. Climate change has impoverished the world. One giant corporation governs North America. When a fierce wheat plague threatens everyone with starvation, an alliance of plant scientists, robot spies, and fed-up farmers organize to fight it. And at their center is a young pop singer named Lizzie who quite unexpectedly becomes the voice of an agrarian revolution.
Narrated by Melissa Wolff
Select Praise for THE COMMONS


"Absorbing and very enjoyable reading for those who love espionage novels, thrillers, mysteries and science fiction"
COLIN HARRINGTON | The Berkshire Eagle


"A great futuristic coming of age novel. A must-read!"
RICHARD ZEYEN | Prof. Emer., Plant Pathology, University of Minnesota


"If you enjoy sci-fi and agriculture too, and you think the current dominant system just might be sitting on the precipice of a dangerous fate, this book is for you. The writing is quick, playful, vibrant — chock full of surprising descriptive embellishments guaranteed to keep the reader entertained. "
KAY MACDONALD | Big Picture Agriculture


"With wit and a breezy style, Dworkin brings us feisty, strong characters striving to be individuals in a tightly controlled society."
BARBARA GREENBAUM | Berkshire Edge


"I loved this book! Every time I chuckled, which was often, I had to remind myself that Dworkin's agricultural dystopia is where we really seem to be heading. The science writing is astonishing -- brilliantly done!"
DR. ROY C. GOULD | Harvard-Smithsonian Center for Astrophysics


"an intelligent and deeply pertinent ecological thriller...a bouncing, exciting adventure that is a pleasure to read as well as an intellectual treat"
KATE ONYETT | The Future Fire


"A paean to the power of song as a subversive, vital agent for change…What an amazing feat, to write a novel that brings music, science, environment and politics onto every page!"
MEL MARVIN | Composer, The Grinch
See Susan Dworkin in the Emmy-award winning documentary, SAVING WHEAT: RUSTS NEVER SLEEP from Twin Cities Public Television and the University of Minnesota Plant Pathology Department.
Critics have raved:
STOLEN GOODS is "Compelling!" "Unforgettable!" "A total joy!"
"Anna Karavajian is a young woman of the unconventional '80s. She drives a truck to work -- and owns the company...She is also a product of the Old Country, raised by intense Armenian parents. As author Dworkin charts Anna'a coming of age, readers will find themselves cheering each step of the way."
CHRISTIAN SCIENCE MONITOR

"An often erotic novel that holds at its heart some tough questions about morality, ethics and the nature of compromise."
MS. MAGAZINE
AN EXCITING NEW EDITION OF "THE NAZI OFFICER'S WIFE" IS NOW IN BOOKSTORES AND ONLINE.
"A beautiful story of survival, an inspiring tale of overcoming fear."
WASHINGTON JEWISH WEEK


THE NAZI OFFICER'S WIFE -- now among the most popular books on Apple's iBooks -- is a true memoir of love and terror in the Third Reich which I wrote with the woman who lived it, the late Edith Hahn Beer.

Wonderful new additions include:

> Updated accounts of the people in Edith's life


> Comments from Edith's daughter and grandson


> Stimulating discussion questions for book clubs


The new edition is available on line in paperback and kindle editions, and in bookstores everywhere.


And there is a smashing audiobook featuring Barbara Rosenblat (Orange is the New Black) available on iTunes, Audible and Amazon.