NEW ON AUDIO: As a Driven Leaf
A USEFUL LISTENER'S GUIDE — WRITTEN BY SUSAN DWORKIN, READ BY MELISSA WOLFF — HAS BEEN ADDED TO THE AWARD-WINNING AUDIOBOOK OF RABBI MILTON STEINBERG'S GREAT NOVEL, AS A DRIVEN LEAF.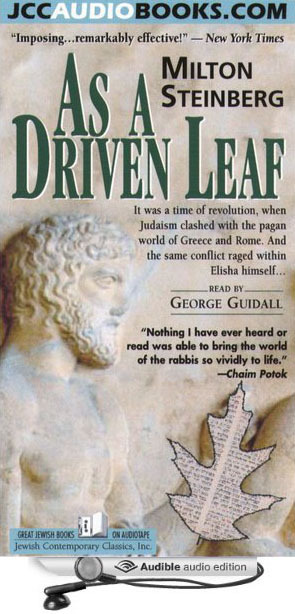 Set in the tumultuous, action-packed era of the Jewish revolt against the Romans, the book tells the story of the anti-hero Elisha Ben Abouya, his friend Rabbi Akiva, and the struggle between empire and independence.

The quick LISTENER'S GUIDE is especially helpful to teachers and students, making it easy for readers to become (re)acquainted with the historical background of the novel's characters and themes.

"As a Driven Leaf has become part of an unofficial reading list…The obvious reason for the novel's endurance among young readers … is that they can relate to its protagonist's struggle to define his religious identity…It brings to life a historical period central to Jewish thought but not much represented in literature."
— Marissa Brostoff, Tablet Magazine

Available on iTunes, Audible and Amazon.