AUDIOBOOK: The Nazi Officer's Wife
THE NAZI OFFICER'S WIFE LANDS ON NEW YORK TIMES BEST SELLERS LISTS
Now, almost 15 years since this tale of love and terror in the Third Reich was first published, The New York Times places the memoir on the E-Book and the Combined Print & E-Book Nonfiction Best Sellers lists.

The memoir has ranked Number 1 in multiple categories on Amazon, including History of Religion, History of Judaism, Women and the Holocaust. And it has spent more than 3 months on Amazon's list of the top 100 Best Sellers in Kindle eBooks.

Read more about the miraculous ascent of THE NAZI OFFICER'S WIFE.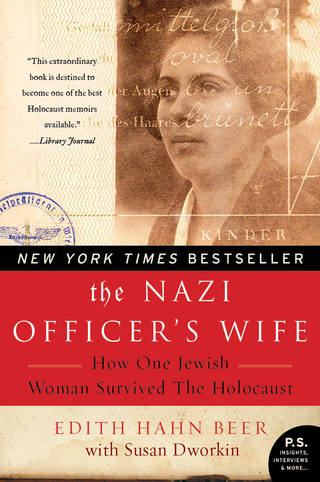 "One of the best Holocaust memoirs"
LIBRARY JOURNAL

"A remarkable story"
JERUSALEM POST

Edith Hahn was an outspoken young woman in Vienna when the Gestapo forced her into a ghetto and then into a slave labor camp. When she returned home months later, she knew she would become a hunted woman, so she went underground.

She emerged in Munich as "Grete Denner". There she met Werner Vetter, a Nazi Party member who fell in love with her. Despite Edith's protests and even her eventual confession that she was Jewish, he married her and kept her identity secret.

The Nazi Officer's Wife audiobook (Jewish Contemporary Classics, Inc.), narrated by Barbara Rosenblat (Miss Rosa on Netflix's "Orange Is The New Black"), won a coveted Audie Award from the Audio Publishers Association.

Available on iTunes, Audible and Amazon.